Day 36 - Boston, Massachusetts, USA
Day 36 – 14th July 2005 -5:00 GMT
Got up just before 10am so could get the free breakfast provided by the hostel. Around 11am we set off into Boston (which is known as the walking city). We walked down Boylston Street and passed Boston public library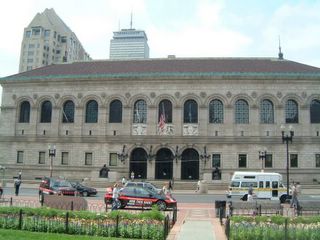 Boston Public Library

then into Boston public gardens
Jill and I in Boston Public Gardens

Boston Public Gardens

and across Boston common where we picked up the Freedom Trail. The Freedom trail is a walking route around Boston which passes all the buildings on historical and cultural intrest, a big red line is painted won the centre of the pavement so it is easy to follow.
The Freedom Trail

So we all stood on the red line and followed it similar to Dorothy following the yellow brick road in the Wizard of Oz. First we passed State House
State House

and then Park Street Church which we went into and saw a short film about the history of the church and it's involvement over the years in the community. It was alos the first church to publicly broadcast it's Sunday service on the radio and it still does today. Next we passed a couple of burial grounds the first being where Benjamin Franklin is buried and then onto The Old City Hall. We then came across Quincy Market and decided to stop for food, I tried one of there Phily Cheese Steak Sandwiches and it was scrumptious.
Quincy Market

Then we headed back onto the Freedom Trail which now lead us around the old town part of Boston, we passed the North Church and another burial ground and then we crossed the Chrleston Bridge and headed into Charleston Navy Yard where we queues to get on the USS Constitution, which is the oldest commissioned warship afloat in the world, it was launched in 1797.
USS Constitution

Charleston Navy Yard is also where the British reinforcements landed for the Battle of Bunker Hill in June 1775. The freedom trail ends at the Bunker Hill Monument.
The Battle Of Bunker Hill

Due to us having walked several miles in temperatures in the mid 30's and in High Humidity we decided to get the undergroound train back to the hostel. We had a rest for a couple of hours and then the other guy sharing our room Steven Maclennen invited us round the corner for a beer, The bar was selling 4 pint pitchers for $4, talking with steven we found out he plays drums in the Dave Evans band and has rodied for many top bands like Metallica, Madonna and U2, he also is friends with Alice Cooper and has designed a few of the Alice Cooper boxsets.
Jill and Steven

The bar was now shutting but the owners said we could stay as long as we liked and did a lock in with only us there and the staff, then they bought us another two pitchers on the house. After we had finished the pitchers we went back to the hostel where I finished my Book "Are you Dave Gorman?" by Dave Gorman and Danny Wallace which was an amazing book then fell asleep.